Printed Cicuit Baoard CAD/CAM Software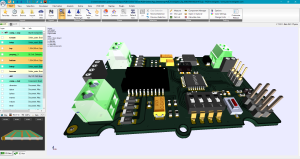 Develop advanced multilayer Printed Circuit Boards with sophisticated CAD support to assure high quality. Analyzing and visualizing detailed information is a key step improving your design flow.
PCB-Investigator CAD/CAM Software is extremely easy to use and is integrated in many areas like PCB developing, production and assembling. PCB-Investigator supports ODB++, GenCAD, IPC-2581 and also reads and views Gerber 274x, Excellon, Sieb & Meyer, DXF, Images and many more formats. Use this professional ECAD Workstation with outstanding PCB editing and viewing qualities. A modern Application Programming Interface (API) using .Net C#, VB.Net and Managed C++ is a state of the art way for customization and automation.
Simulation
Benefit as developer – both in HW and SW development – from PCB-Investigator's various features ranging from basic functions to helpful analyses. Concerning EMC and Hazard Analysis PCB-Investigator supports you with automated length and distance calculations and visualizes the results both as text and graphically. Like that, unnecessary disturbances in the end product can be avoided easily. Change tracking, which is is especially helpful in your communication with designers, is integrated efficiently with both a net and a component based Compare Plug-in. A detailed and accurate documentation of all relevant data – with our Design Report Plug-in – in combination with the Embedded Function avoids expensive misunderstandings.
Manufacturing
In the assembly, a variety of possibilities for simplifying your workflow can be found in PCB-Investigator: Prepare test adapter data for a Testpoint analysis or avoid any possibility of problems in fabrication with a Component and Tombstone Check. PCB-Investigator offers the matching solution for any requirement. In the assembly SolidWorks is another important tool, that can be connected easily with PCBI via an export and import function: PCB-Investigator even replaces simulated components independently with real SolidWorks parts after exporting. Pick&Place is a common procedure in assembly and is supported by PCB-Investigator as well, no matter whether it comes to Pick&Place data creation or data base generation.
Processing
PCB-Investigator can support or even take work sequences in PCB Fabrication as well. As en excellent Viewing Tool it highlights important information for any upcoming task like showing hotspots in order to avoid errors and rejects. Another strength of PCB-Investigator is the DFM area: With a wide-ranging Bare Board Analysis (DRC) or by preparing PCB data as high resolution black-white graphics for the AOI, PCB-Investigator helps avoiding costly and time-consuming remanufactures in the first place. Panel Building for prototype or serial production is another important step. PCB-Investigator can support you optimally with the Panel Builder Plug-in.
PCB-Investigator will reduce prototype costs because of less design loops and brings development closer to fabrication to create high quality for satisfying your customer's needs. Speed up your time to market!
Downloads
Request a free quote
Please contact us to receive a non-binding offer
for the desired product.